Last summer's French fling, to the environs around Paris (mostly EuroDisney), with a day in Reims, was a bit of a dry run. It was the first time I'd driven in my own car on the wrong side of the road and it was a holiday that was also hurriedly organised at the last minute. If deemed successful however it would surely lead on to greater travels when the time came. And that time came at 04:30 a couple of weeks ago - destination Alsace.
It is about 90 miles from home to Dover and leaving for an early boat as we did last year is handy as it means not having to deal with any traffic at this end and also gives more time to get a decent way into France later in the day. Expectations of good spotting to come were high after seeing the Skat truck as we drove into the sunrise on the M2.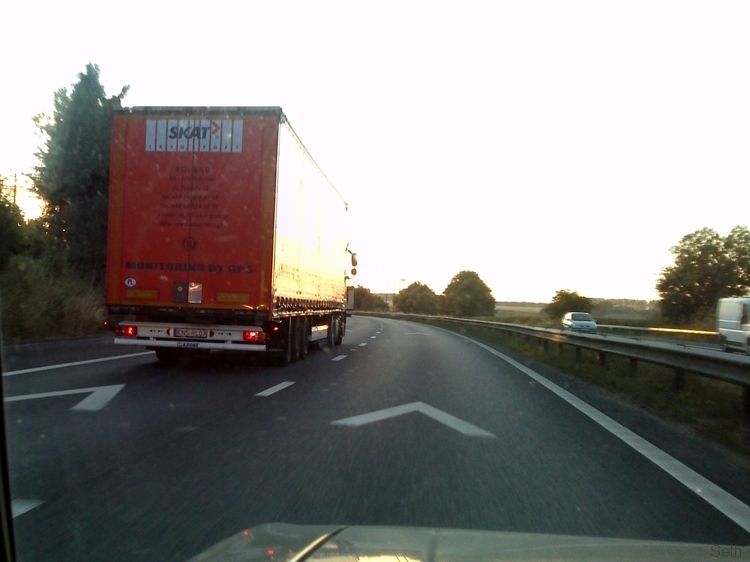 At the port I had just enough time to remove (and then refit) the Hillman's grille to fit the yellow Lucas headlight covers. Nothing exciting to see on the ferry and this is what laid ahead at the other side. 320km (198m) of (mostly) tolled motorway.
After stopping for fuel after about 60km (I try to run the car with as little as possible for the crossing to make getting on and off the ferry easier - no point carrying 30kg+ of fuel behind the back axle if not necessary) we made another stop for lunch about half way.
We arrived about 3:30pm and so had time after setting up camp for a little wander but saw not much other than this tractor and R4.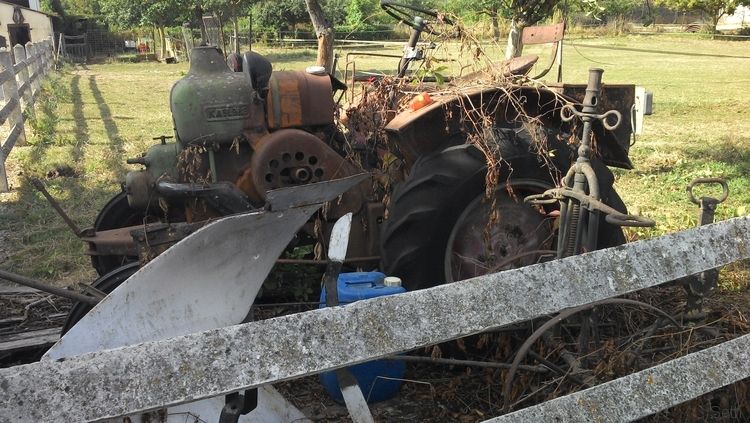 The next morning was more exciting than it should have been when looking for the supermarket fuel station and inadvetently entering the car park which contained height restrictions slightly lower than the bikes on the roof and also speed bumps. At least once we got to the right bit I saw this 104 and sent Mrs_Seth off to take the picture while I deposited more 98 octane in the tank. The Hillman seems to prefer the strong stuff when towing and we also saw plenty of 95E10 around and thought it better to avoid the potential old carburetor/hose alcohol difficulties.
Day two travelling, to our prime destination of Kaysersberg was like so. Approx 392km (243m)
It looks a long way round but I was not sure how we would manage if we tried the more direct route over the Vosges mountains so decided to try playing it safer though more expensively (fuel and tolls) by sticking to the motorways.
We stopped at a decent looking 'Aire' a bit over halfway to have lunch and splash some more fuel in to ensure we'd make it the rest of the way with no problems. An earlier calculation had showed we were doing around 29mpg which I was pretty pleased about to be honest. The car had run a bit hotter that morning, especially when we had to wait at a toll booth for a few minutes and a nagging doubt I'd had in my mind was proven when I opened the bonnet - I'd checked the water that morning, had got distracted and hadn't done the rad cap back up. Fortunately it had stayed in place but there was spray all over the bonnet and once cooled, before we set off again, it took 2 litres of water. Oh well - nothing to do but hope there were no consequences. Seeing this pair in the petrol station cheered me up!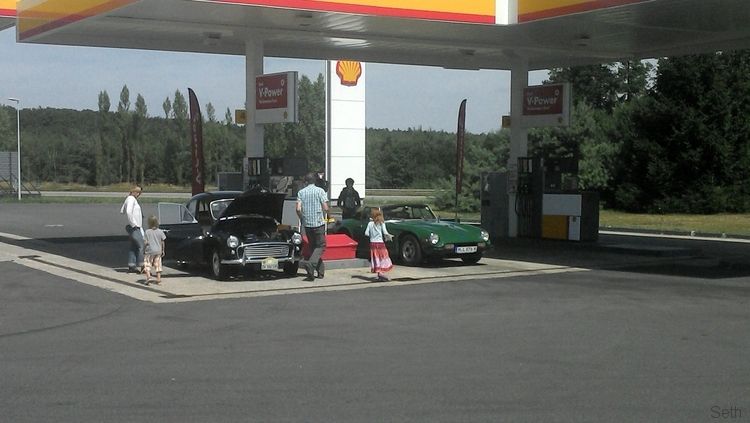 We made it to the 'Camping' around 4pm, set up and I breathed a sigh of releif.
Next day we headed into the nearest big town of Colmar for a look around and some food shopping to get us through the weekend. We were planning on using the train to get to Strasbourg at some time so parked in the station car park to check it out. This was there.
An accurate* model of the tour.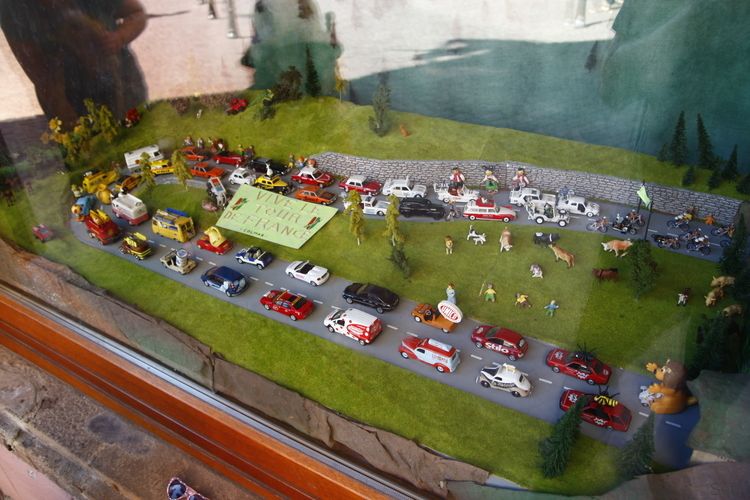 A rubbish motorised bicycle.
An excellent looking tyre shop.
Pre soixante dix huit is coming!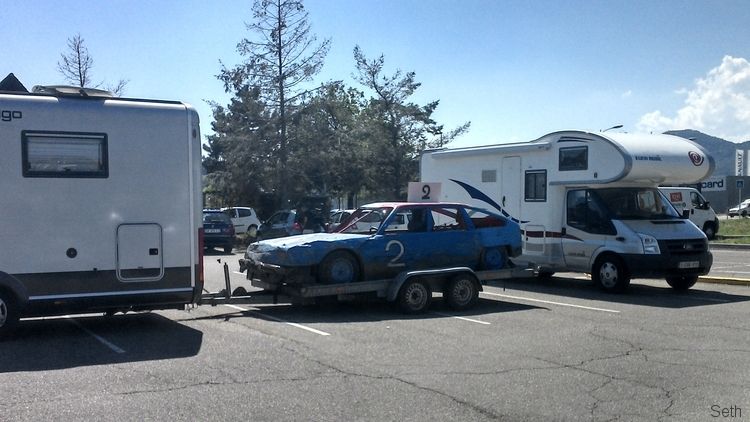 Saturday was a relaxed day on the campsite and wandering through Kaysersberg town where we came across a wide arched, R8 Gordini but with no way of taking a photo! Argh! Sunday was more exciting. Time for the first drive up into the mountains to visit a castle (at 'B')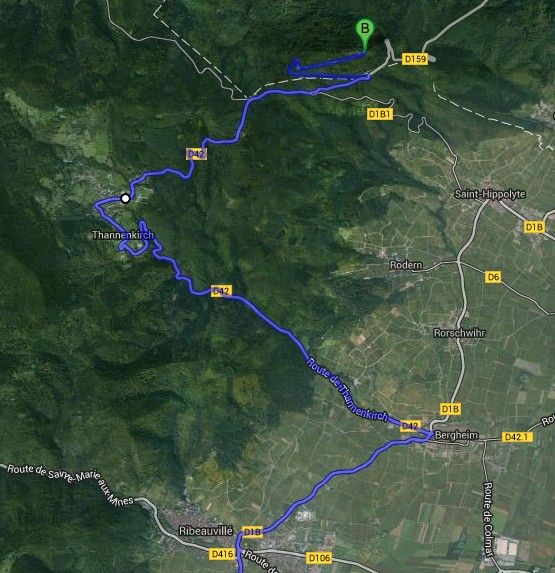 On the way up we found ourselves briefly following this 304...
..until he stopped to talk to a chap in this Peugeot!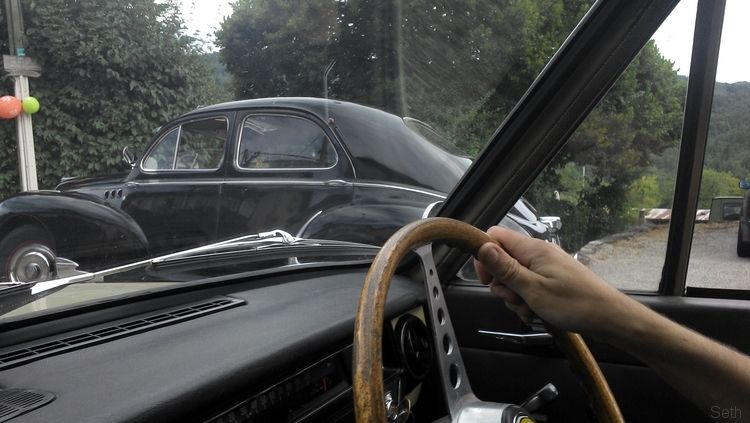 Then Mrs_Seth spotted a poster for a classic car show in the village (of Thannenkirch) that day! The castle was very good and there were a few more old cars mooching about, some clearly connected with the show.
Dunno why the camera phone did this.
So, it would have been rude not to go and investigate later in the day, passing this Midget on the way back down.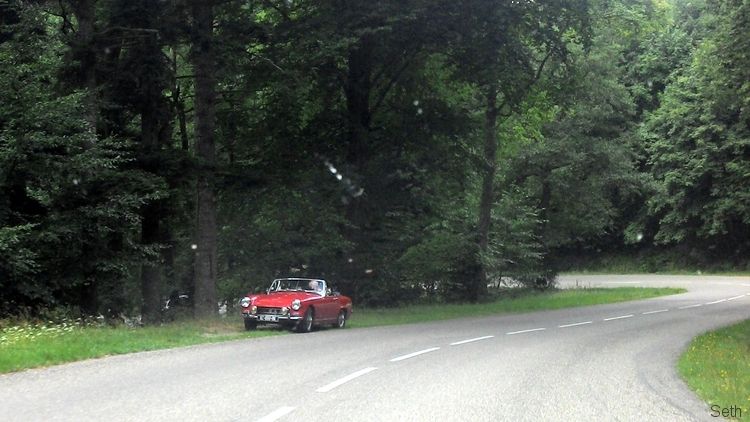 I'll do a proper thread on the show, but this is what Mrs_Seth was able to snap as we drove in, getting bemused looks.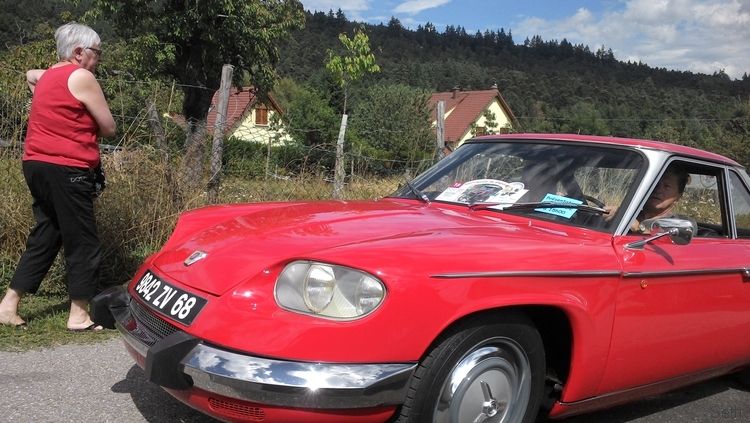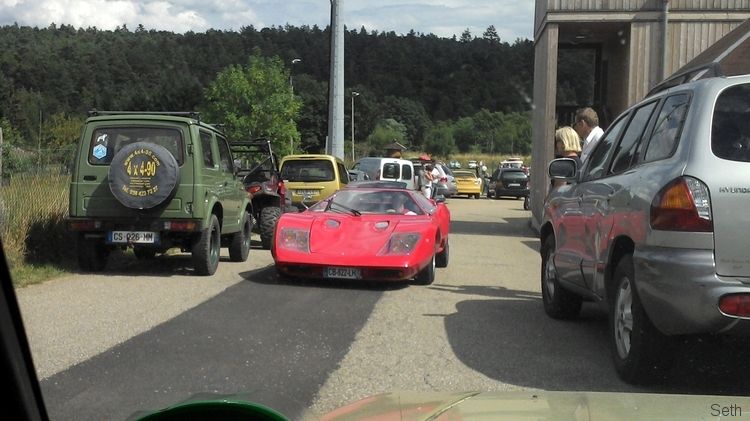 Monday contained an incredible experience, and basically the reason why Alsace was this years chosen destination. This was the route we took to Mulhouse.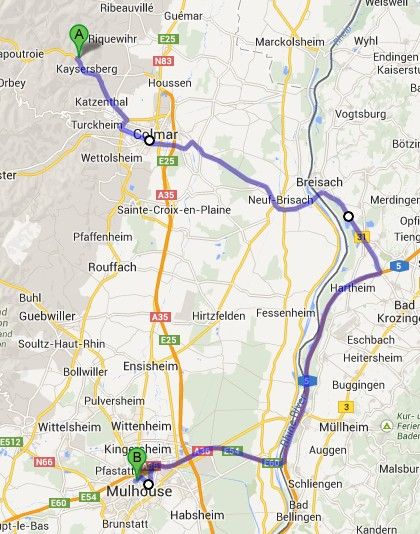 Well, it would have been rude not to pop into Germany while we were close by.
Once back in France we had to rely on signposts to find the musuem.
The
museum. Cite de l'automobile - otherwise, and by law, to be referred to as the Schlumpf collection.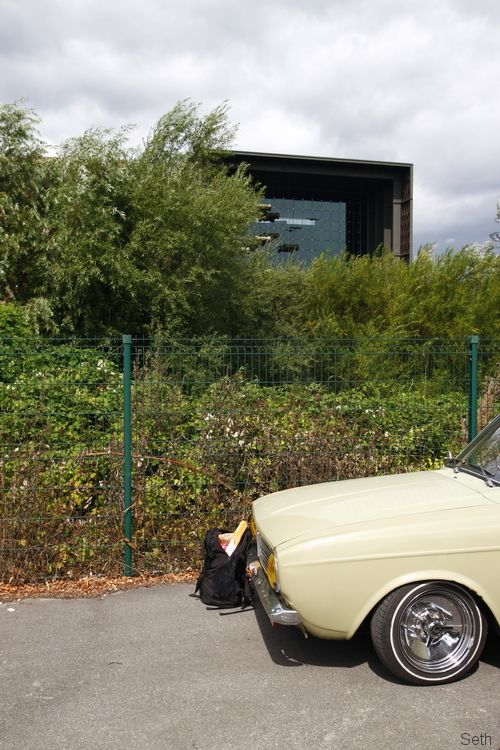 Again, a proper thread will follow. This BMW was in the car park when we arrived.
And on leaving several hours later, this Simca!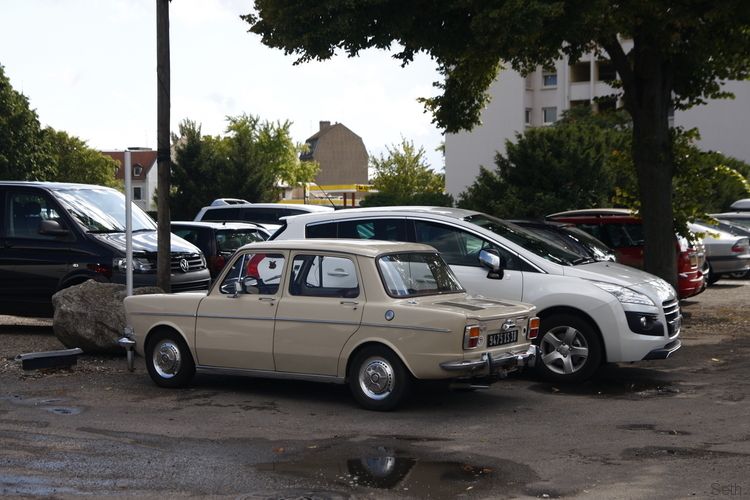 With the weather looking pretty reasonable we chose Tuesday to be the day to tackle the mountain roads up to 'Grand Ballon' the highest peak in the Vosges at 1,424m. Here was our route there, starting at A and joining the 'Route des Cretes' for much of the way there, at B.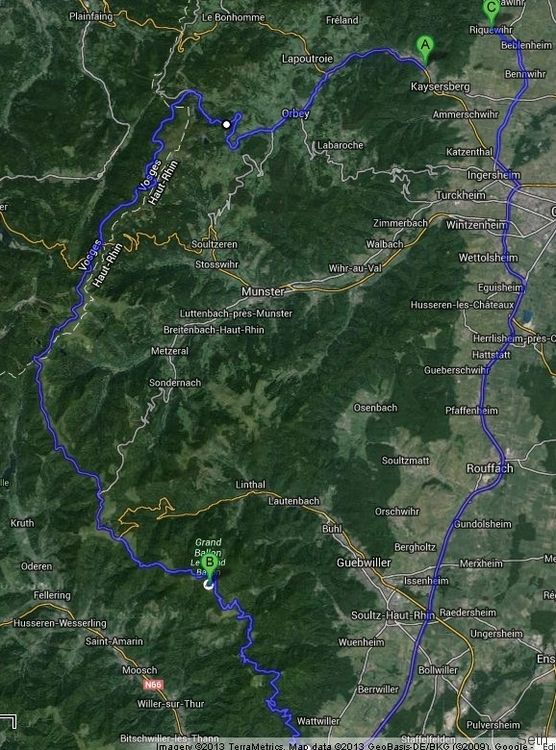 Gratuitous shot of car in hills.
Not the oldest car on that road that morning though!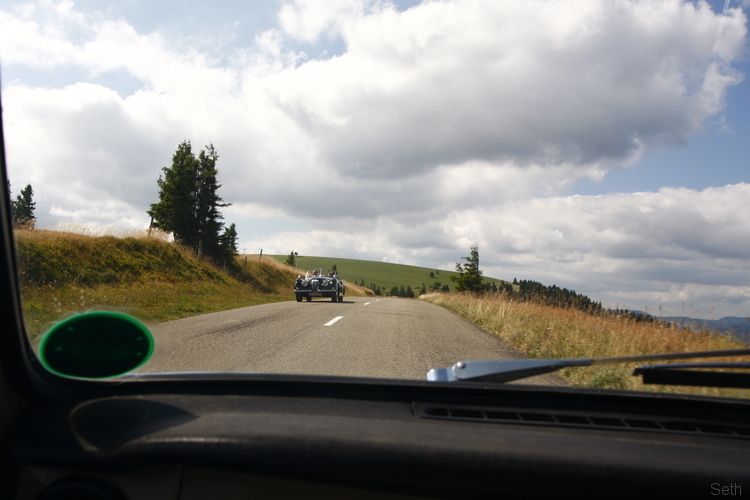 We made it to the car park at the top of the road at Grand Ballon and walked up to the peak, getting a good view of a bit of the road back down the other side.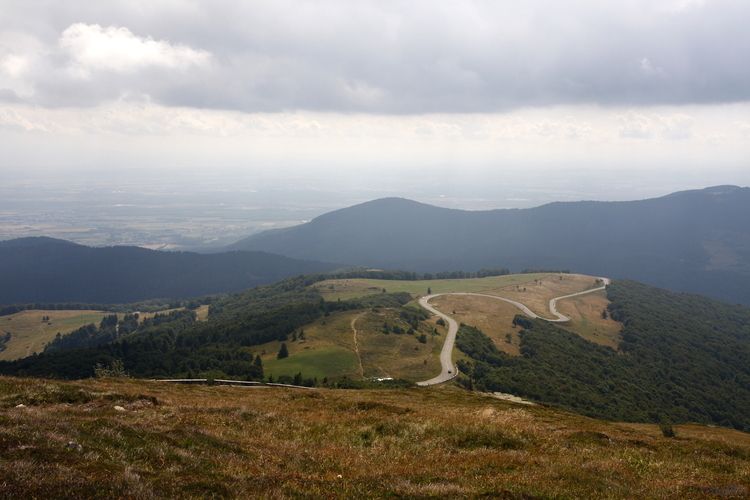 Right at the top there's a historical monument and also this, a stark, unmanned Radar station.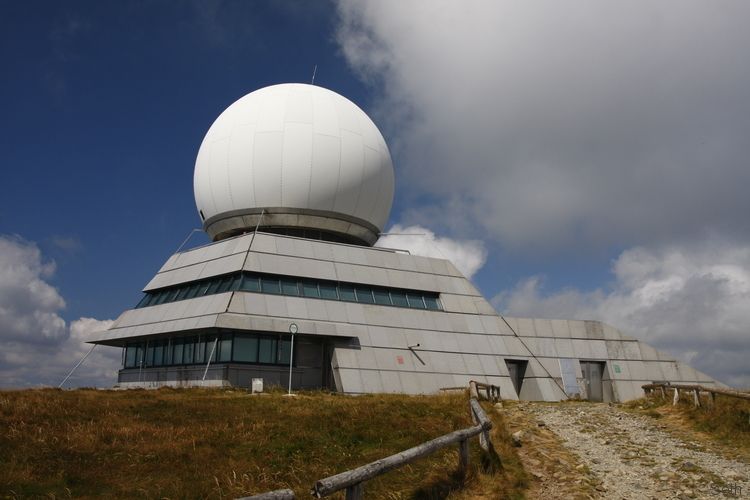 It looks like the lair of an evil man, who is set on world domination and defeat of James Bond.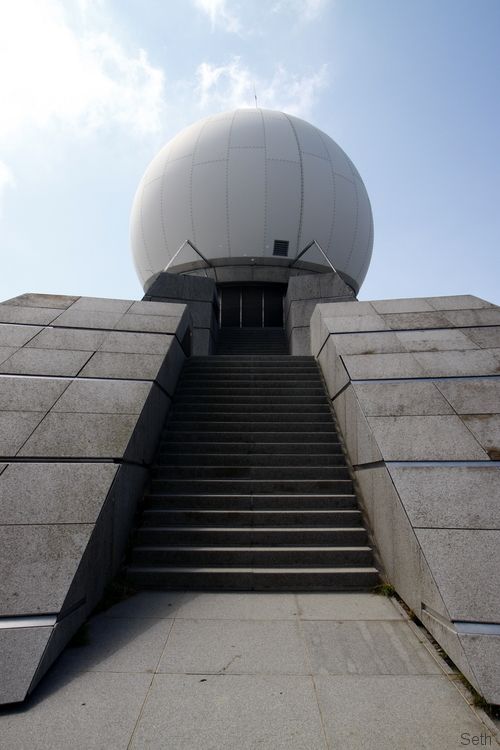 Anyway, here's proof of the Hillman parked in a place higher than any point of the United Kingdom (Ben Nevis is only 1344m)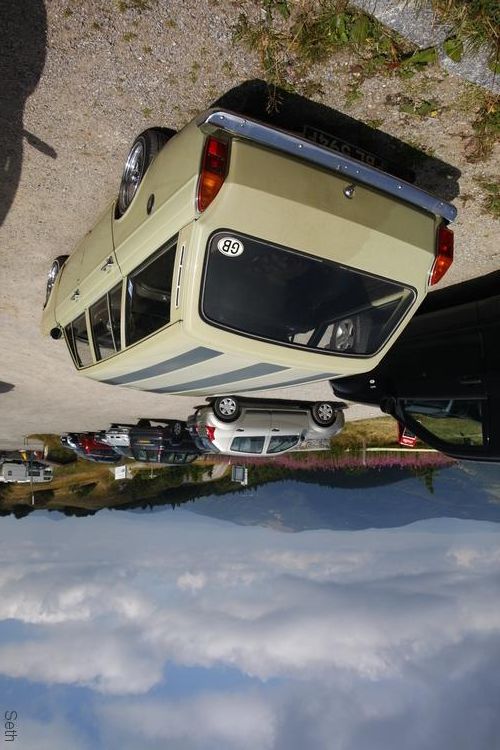 There was this Lancia by the restaurant up there too.
Second destination of the day was C on the map, the walled town of Riquewihr, which seems virtually unchanged in 300+years.
There's a museum on the postal service there so we popped in for a look. I think this was the only H van I saw all holiday.
Some models.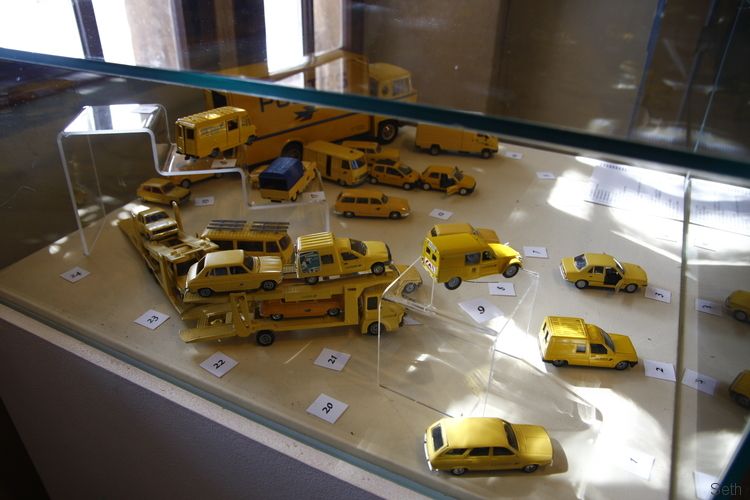 And 1950s chart of French industry.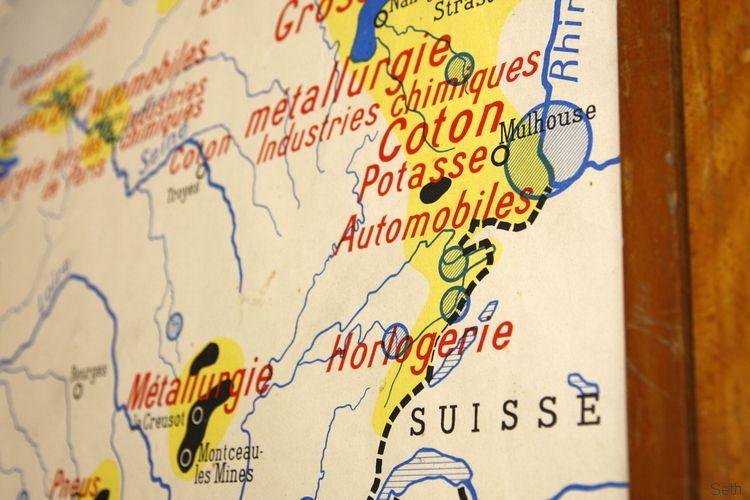 Then on the way home I had to turn around to 'spot' this but I doubt I've ever seen one outside of a show before.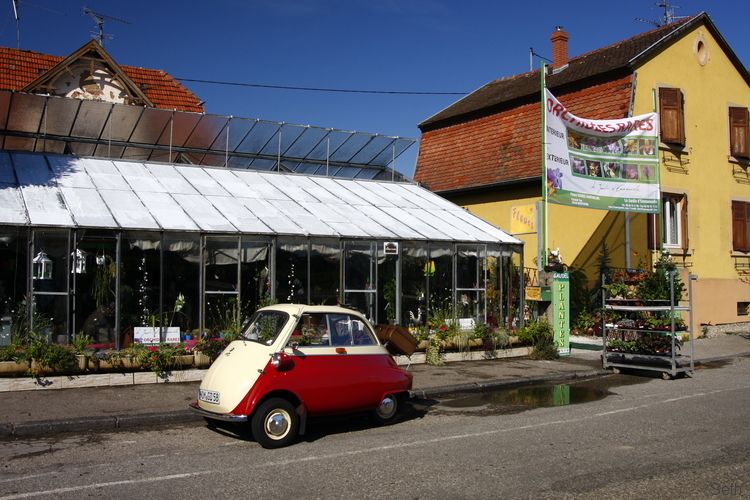 I'm probably about halfway through now so will have a break and finish off tomorrow.